Fats & Oils
17 Healthy French Toast Recipes
Did you know that I'm a huge French toast fan? People often find this surprising, because French toast is a meal that can easily turn into a whole food lover's nightmare — heaps of processed ingredients with little nutritional value. However, French toast recipes don't have to be unhealthy and loaded with excessive calories.
When done right, this delicious breakfast/brunch dish can be a reasonably healthy way to start the day. If you need more convincing, look no further than this list of French toast recipes.
The French toast recipes here are all super tasty and filled with recognizable ingredients, and because there are few ingredients in French toast, you can use the best ones you can find.
This is the time to splurge on a good loaf of bread and fresh, surprisingly nutrition-rich maple syrup.
Try these French toast recipes on weekends or on special mornings, like birthdays — it's good to indulge sometimes.
Whether you like a classic toast, a vegan version or you're ready for something totally new (French toast oatmeal, anyone?), you're sure to find a recipe the family will love, guilt-free!
17 Better-for-You French Toast Recipes
1. Banana Breakfast Sandwiches
Instead of adding toppings to your French toast, why not stuff them inside? That's the rationale with these yummy banana sandwiches, which are cooked like a grilled cheese. Sliced strawberries are equally delicious, too!
2. Banana Cinnamon French Toast
What do vegans eat when it comes to French toast recipes? Well, for one they can use bananas in the batter instead of eggs, while lending a slightly sweet, banana bread flavor.
Try adding nuts into the batter for extra crunch and nutrition. Even non-vegans will love this one.
3. Banana Oat Baked French Toast
This single-serving breakfast is great when the kids are out of the house and you want to cozy up with the paper and coffee. With gluten-free oats, it's also good for those trying to avoid wheat.
It comes together in the oven, giving it a hybrid French toast/baked oatmeal kind of feel. With a crunchy top and creamy center, there's no better way to kick off a day.Photo: Banana Oat Baked French Toast / Running with Spoons
4. Cinnamon French Toast Breakfast Wrap
A plain, old tortilla is transformed in this innovative recipe. The wrap is dredged in a cinnamon-vanilla-egg mixture to create a skinny French toast.
Then it's stuffed with your favorite ingredients, like fruit, nut butters and the leftover egg mixture, which you cook up so it's sweet, fluffy and full of protein.
5. Coconut Cream Pie French Toast
Who needs dairy when you have coconut milk? That's the secret ingredient in this French toast recipe that's reminiscent of the coconut cream pies you loved as a kid.
Plan this one ahead, as the bread slices soak overnight — totally worth it. Finished with coconut whipped cream, coconut flakes and maple syrup, make this to feed and wow a brunch crowd.
6. Clean-Eating Blueberry French Toast Casserole
The most nerve-wracking part of French toast is knowing when to flip. Making a casserole eliminates the guesswork.
In this version, you combine egg whites, almond and vanilla extracts for a ton of flavor, cinnamon, and antioxidant-packed blueberries over whole-grain bread and pop it in the oven.
The whole thing is prepped in under five minutes and then bakes for 45, awesome for when you're expecting company or have a busy morning.
7. French Toast Casserole Bake
The key to making this overnight casserole is using a hearty, day-old bread. You want something substantial, as the bread soaks up the yummy, coconut milk-based batter overnight.
That's right: In the morning, all that's left is prepping a divine almond-sugar-butter crumble over the slices and sliding it all into the oven. Try not to drool.
8. Healthier Make-Ahead Freezer French Toast Sticks
If you usually have to bypass the frozen foods aisle because there's too much temptation for the kids, you've got to try these freezer French toast sticks. This recipe makes a big batch of French toast you then slice and dice into sticks, just like those scary ones sold at the supermarket.
When you're ready to eat, just put them in the toaster, and serve with toppings. It doesn't get any easier than that.
9. Healthier Pumpkin French Toast
If pumpkin mania has hit your house, you'll be delighted at another way to eat it. Vitamin-rich pumpkin puree is mixed into the French toast batter for the perfect cozy autumn breakfast.
Instead of Truvia, however, use a sugar substitute like coconut sugar.
10. Healthy Stuffed French Toast with Almond Butter & Banana
Don't wait for a holiday to make this French toast recipe. Oozing almond butter, requiring only 10 minutes of prep time, and full of healthy fats and protein, it's the perfect way to start a Monday.
11. Maple French Toast Overnight Oats
Classic French toast flavors married with overnight oats? This is a match made in easy breakfast heaven.
Mix all the ingredients in a jar, soak overnight and eat in the morning. That's it!
To make this recipe even better, add flaxseed for extra fiber and protein. Say hello to your new favorite.
12. Peanut Butter Protein French Toast
This gluten-free, protein-rich French toast is a great way to refuel after an intense morning workout. Adding protein powder helps your muscles recover while powdered peanut butter keeps you feeling full for hours.
13. Protein-Packed Healthy French Toast with Chocolate and Peanut Butter
This is French toast turned up a notch. With peanut butter (use organic, one-ingredient or substitute your favorite nut butter), cocoa powder, vanilla extract and then protein powder, this recipe is both healthy and absolutely delicious.
It tastes decadent, yet it's healthy. I suppose you could skip the chocolate, but why would you want to?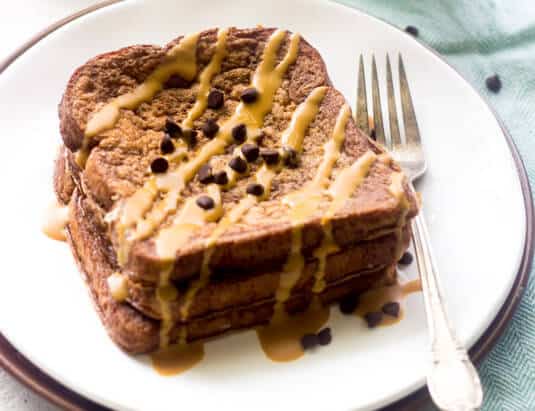 14. Skinny Baked French Toast with Strawberry Topping
This light and simple French toast recipe is extra sweet thanks to a fresh strawberry topping. It bakes in the oven, making this a time-saver when hosting company. No more standing and flipping at the stove!
Make the topping ahead of time so it's cooled before serving the toast.
15. Skinny Crunchy French Toast
Have you had crunchy French toast? Don't knock it until you've tried it, preferably with this recipe.
This is a yummy take for a special treat (read: not every morning!), and while it might be a little richer than your average breakfast, it's still made from wholesome ingredients. But please, use full-fat, local or organic cream cheese if possible instead of a low-fat variety.
The cream cheese gets smothered onto bread, topped with strawberries, coated in breadcrumbs and then finished off in the pan. The result is a toast that's crispy on the outside, warm and gooey on the inside. Make this now.
16. Vegan French Toast
This vegan French toast recipe fries up quite nicely thanks to the coconut milk, maple syrup and banana batter combo that's whipped up in the food processor. Bonus: That sweet maple flavor is right in the batter, infusing every bite. Mmm.
17. Sourdough Bread French Toast
It you want a healthy bread option, sourdough is a great choice, and it's perfect for making French toast recipes too. This one has just five additional ingredients added to the sourdough: eggs, coconut milk, vanilla extract, cinnamon and ghee.
With a six-ingredient list of healthy foods, this is a great way to get your French toast fix in without any of the guilt.